Book Melaka holiday homestay, hotel, vacation rental, villa chalet
Melaka homestay, budget hotel, apartment, resort and villa chatlet in Malaysia with bbq & private swimming pool near Melaka Raya, Jonker Street, Wonderland, A'Famosa, Alor Gajah, Bandar Hilir, Ayer Keroh & more
---
Latest Promotion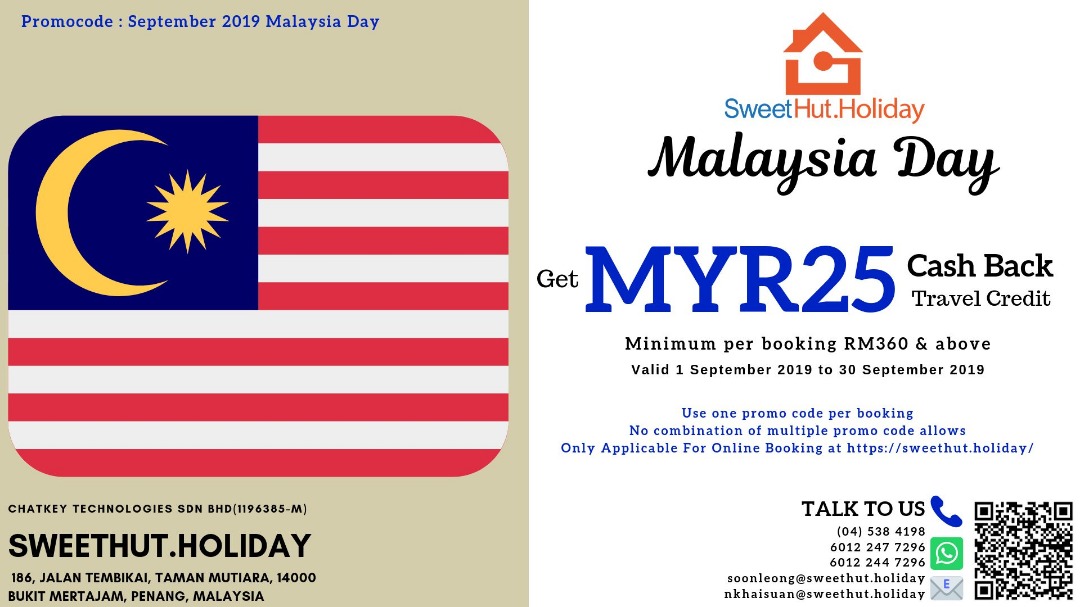 Best Homestay in Melaka Malaysia
The Historical City of Malacca (also well known as Bandaraya Melaka in Bahasa Malaysia), is UNESCO World Heritage Site. It is a small state in southern of Peninsular Malaysia which is next to Seremban Negeri Sembilan and Johor. It is filled with wonderful places and historical attractions that are not only frequently visited by tourists, but also by the residents of the state! No matter whether you are planning for a simple day time activity or a short vacation, Malacca will be your best choice of holiday travelling destination!

The Malacca state is an amazingly balanced blend of both modern buildings, that represents the city living leisure lifestyle, and traditional heritage buildings, that show the great and long history of the state. Tourists who get the chance to visit Malacca during their vacations or trips, we want you to know that Malacca has endless of fun and excitements waiting for you! For tourists who depart to Malacca from Kuala Lumpur, there will be easy access of buses, taxis and rental cars that are able to aid tourists in reaching Malacca. As for the nearest airport from Malacca, it will be the Kuala Lumpur International Airport. Moreover, air flight from Johor Senai International Airport and Singapore Changi International Airport will take less than 70 minutes.

For tourists who are interested in sightseeing, Malacca will be just like heaven! Some of the famous historical spots that tourists should (or must!) visit are the St. Paul's Church, which is formerly a Portuguese church, Porta de Santiago, the Portuguese fortress which helps defended against Dutch's attacks, the Stadthuys of Malacca, which was built by the Dutch governor and the Christ Church. Many homestays and hotels at https://sweethut.holiday are located nearby to these attractions.

In addition, the other famous places in Malacca that tourists and local residents frequently visit are the Jonker Street, A'Famosa Resort Water Theme Park, Malacca Zoo, Baba and Nyonya Heritage Museum, Bukit China, Kampung Keling Mosque, Malacca Botanical Garden, Malacca Wonderland Theme Park Resort, Cheng Hoon Teng Temple, the Portuguese settlements, the crooked St. Francis Xavier's Church, Mini Malaysia & ASEAN Cultural Park.

Melaka famous shopping paradise include Dataran Pahlawan Melaka Megamall, Aeon Shopping Mall, Mahkota Parade (Plaza Mahkota), Melaka Shopping Mall, Elements Mall Melaka, Ramada Plaza by Wyndham Melaka, The Shore at Malacca River, Plaza Hang Tuah, Hatten Square, Vedro Mall Melaka, Terminal Pahlawan, Melaka Boulevard , Uptown Pahlawan Walk Bandar Hilir.

For tourists who are food lovers, Jonker Street is the place to go! Local delicacies like cendol, laksa, chicken rice ball, ikan bakar, popiah, potato twisters, kajang cakes, satay celup and more will be sold there! Homestays and hotels Melaka nearest to food court are very popular in demand. Even if you are just looking for some souvenirs for your friends and families at home, Jonker Street is great too! Being known as the artistic center of Malacca, near Jonker Street has numerous number of art galleries, antique stores and shops that sell ornaments, handcrafted gifts and even traditional illustrations of Malacca! Whether it is to fill your tummy with delicious local food or to shop some souvenirs, Jonker Street night market will always be the best choice.

For natural beaches lovers, you can relax and enjoy popular Melaka Klebang Beach, Puteri Beach, Tanjung Bidara Beach, Pantai Peranginan Padang Kemunting, Pengkalan Balak and Pantai Punggor Telok Mas. Popular Island for your holiday escape include Upeh Island, Besar Island and Undan Island. Malacca homestays and hotels near beach amaze your family holiday gathering.

Seems like there are endless of interesting attraction spots to explore? Tourists that are travelling in Malacca get the privilege to have a tour around Malacca whether it is by boat or by bus! On a small river which is called the Malacca River will be boat trips that run through the Malacca city being offered to the tourists. St Francis Xavier's Church and Jonker Street are the two departure points of the boat trip. For tourists who will be going on a boat trip near jetty at daytime will get to explore and witness the beauty of Malacca city, while as for those who are going at night will be equally amazed by the night scene of Malacca! Besides exploring Malacca by boat, tourists will also get the chance to visit the historical sites of Malacca by riding a red double decker bus which allows tourists to hop off at any historical sites and hop on again to reach another historical site.

Group ccommodations and family holiday homestays in Malacca have a rather wide variety of choices, ranging from best amazing resorts, homestays, hotels, guest house, rest house, seaview condo, resort villa, chalet villa, bungalow, double storey house and even affordable cheap vacation houses. However, affordable homestays that are well furnished with swimming pool, private pool, air conditioners, BBQ equipment facilities, private car parks, WiFi, and air-conditioning are getting more and more popular among tourists recently. Even with all the facilities that are offered by the homestays in Malacca which ensure the comfort and satisfaction of tourists, the rates and prices of the homestays are still cheap and affordable.

Some of the Malacca homestays that are affordable, suitable for family gathering, business trip, short term rental, backpackers, Chinese wedding ceremonies and well furnished as above are Simple Homestay, Cuti-cuti Gembira di Nazirah Homestay Melaka, and Famosa Homestay. Some homestays are strictly for Muslim friendly homestays. Find best affordable homestays and budget hotels below RM100 nearby tourist place at Bandar Hilir, Jonker Street, Alor Gajah A Famosa, Asahan, Jasin, Bukit Beruang, Bayou Lagoon, Kota Laksamana, Paya Rumput, Melaka Tengah, Tesco Cheng, Ayer Keroh, Klebang, Krubong, Sungai Udang, Kuala Sungai Baru, Batang Melaka, Duyung, Batu Berendam, Kuala Linggi, KUIM, Masjid Tanah, Matrik Londang, Cheng, near Mahkota Parade, Merlimau Melaka, Durian Tunggal, Bukit Katil, Lubok Cina, MMU Melaka, MITC, Tanjung Bidara, Hang Tuah Jaya, Tanjung Kling, Sungai Udang, Simpang Ampat, Sungai Rambai, Selandar, Serkam, Tampin, UITM Lendu, Semabok, Sri Negeri Melaka, Tampin, Malacca Pindah, Naning, Nyalas, Umbai, Ujong Pasir, Peringgit Melaka, AFamosa and Telok Mas. To book and secure your stay in Malacca, be sure to visit us at https://sweethut.holiday/as we offer you the best homestays and hotels accommodation experience in Malacca with the lowest and cheapest rates available.